Internal cutting area is equipped with four precision round cutting machines and an area designed for cutting wastes.
Baling is provided by own automatic Gualchierani press machine, with a 250 tons pressure, producing standard dimensions baling packaging.
Production performances can reach the 100 tons/day level.
Cutting area is also equipped with a recrimping machine that, if needed, can compact fiber structure.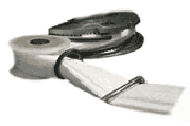 Detail of regular cut machine